Happy Wednesday! I can't believe we're halfway through this week already. For some reason this week is just flying by (which is A-OK with me! Bring on the weekend!)
Captain Insomnia has struck again, and I just can't seem to get any sleep lately! I've even tried to start taking melatonin, which helps me fall asleep for about an hour. Then I'm awake again, and up all night! Grrr!
It's times like these that this no-caffeine thing seems like a bad life decision…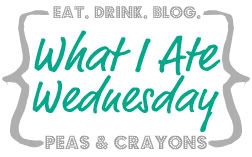 Anyway, let's focus on the positive, shall we? Which obviously means food! Because it's WIAW, of course!
For anyone not familiar with WIAW, please head over to Jenn's blog to get a great description of what WIAW is all about, and to see what other awesome bloggers have been eating!
Breakfast
Same old, same old (but I finally got a new picture of it!) – plain oats topped with frozen mixed berries, peanut butter, a touch of natural strawberry jam, cinnamon and ground flax seed. Never gets old!
Side note – it looks much prettier before I mix it up into one giant pink-brown clump! haha.
Snack
Unfortunately I still had a grumbly tummy by about 10am, so I snacked on a few handfuls of almonds. I had this x2!
Lunch
I'm still on a total salad kick! Normally I need a salad break after awhile, but for whatever reason I haven't gotten sick of it yet, so I'm just riding this train as long as I can. Can't complain about all the yummy veggies!
Snack #2
For some reason I've really been craving greek yogurt lately, so I picked up some of the Chobani 100 at the store this week, and topped it with some homemade granola.
Dinner
We ended up meeting up with a bunch of our friends from bible study for Tuesday night bowling. Our bowling alley is pretty fancy and has quite the extensive menu (not your usual gross bowling alley food!), but unfortunately are a little limited on their healthy options. But I figured, what the heck? It's ok to indulge every once and awhile, as long as you balance it out! So Chris and I split this buffalo chicken pizza and it was totally worth it.
To our credit, we did ask for it on whole wheat crust, and traded out the typical fried chicken on top for grilled chicken strips. We also tried to ask for spinach or something on top, but they were all out. Oh well, at least I got in my greens at lunch!
Workout
I didn't get in a real workout, because I was too busy hanging out with these lovely people! Although boy is my right arm feeling it after several rounds of bowling!
So tell me: What did you eat today? Are you a good bowler? I'm absolutely terrible!