Happy Wednesday!
I'm quite thankful this week is going by quickly, because it's turning out to be quite busy! We have some crazy stuff going on at work to prep for some office travel through the rest of summer, so everyone is running around like busy little worker bees trying to get everything done. There may have been some few nasty words spoken towards the copy machine yesterday when it decided it didn't want to take any more papers.
It's amazing how much we rely on technology nowadays! We can't function when a stupid copier goes down!
Anyway, this week has been pretty busy between work, prepping for my GRE in August (Math, yuck!), working on some research for a local professor, and getting Wild used to our house. No wonder I'm running super low on sleep right now!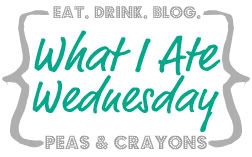 But since it's Wednesday, we should focus on something fun. Like food! Right?
If you're not familiar with WIAW, I highly encourage you to check out Jenn's blog and learn what it's all about. Plus you can check out what a ton of other awesome bloggers are eating!Thanks for the linkup Jenn!
Breakfast
My usual. Pretty boring, I know. I just never get tired of this combo, even in the hot summer months! Plain oats, topped with a scoop of natural peanut butter, frozen berries, a bit of strawberry jam and a sprinkle of cinnamon. Simple and delicious. Although I do have some empty PB jars that are sitting in my cabinet… so maybe I'll get fancy with my oats soon!
Lunch
Ok, definitely not the most appetizing meal, I know. But it tasted much better than it looked, I promise! Chris made this black bean pasta primavera last week and I wanted to finish up the rest of it before it went bad. You can't let all those delicious veggies go to waste! It was literally just black bean pasta topped with marinara, sauteed summer squash, zucchini and mushrooms. (<– affiliate link, FYI)
Snack
This has become my new favorite combo lately! A brown rice cake topped with a bit of peanut butter and a banana. You get a little sweet, a little salty and a little crunch!
Dinner
Dinner was literally thrown together in about 2 minutes, so it wasn't my best meal creation of all time. Thanks to the massive thunder storms that rolled through, my train was like 30 minutes late coming home, which meant that I had about 10 minutes to make and eat dinner before I had to head out again. With some quick thinking I threw together a buffalo chicken sandwich (leftover grilled chicken, buffalo sauce, a touch of ranch, lettuce and tomato) and a 1/2 of a sweet potato with buffalo sauce.I wasn't a huge fan of the white bun (leftover from the BBQ this weekend), but it's all I could come up with in 10 seconds!
Workout
Sadly I didn't get a workout in like I'd hoped. Plan A had been to run during my lunch break, but thanks to the summer rain I wasn't able to get out there. Plan B was to workout when I got home before we had to leave for Chris' softball game, but thanks to the late train that didn't happen either.
After scarfing down dinner and seeing that Chris' game STILL wasn't cancelled, we hoped in the car to head up to the fields. We got about halfway there before we got the email that they were cancelled and had to turn back around. At that point I had already scarfed food, and the idea of trying to workout without digesting didn't sound good, so I ended up just skipping my workout all together. Boooo.
Overall it wasn't the best day of eats and workouts for me, but sometimes those days just happen. That's real life people! I am very much a control freak and I hate when my plans dont work out like they're supposed to, but I'm working to be a little bit better about going with the flow – so I just let it go (cue Frozen singalong). Here's to a better tomorrow!
PS – Dont forget that today is the last day to enter my Pure Via Summer Fit Kit Giveaway! Go check it out!
So tell me: What did you eat today? Did you get a workout in? Are you a control freak or a go-with-the-flow kind of person?