Wednesday already? Man this week is flying by! I think I must still be riding the vacation weekend high or something!
This week has actually been a pretty crazy one for us. Chris' summer sports are in full swing, so he pretty much has something every single night. Which means that I've been trying to come up with meals that are even faster and easier (but still healthy) to make so that he can scarf them before he runs out the door. I'm pretty sure we haven't actually sat at our dining room table for dinner in weeks!
Sigh, that's just life right now – busy busy busy!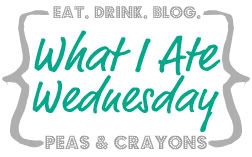 As usual though, I'm still trying to make sure that in during the busy times I'm still aiming for a healthy balance with my food. And thanks to Jenn, I can show you exactly what I've been eating lately!
If you're not familiar with the WIAW concept, I highly encourage you to head over to Jenn's blog and check out more. Plus you can see what a ton of other awesome bloggers have been chowing down on lately!
Breakfast
After a weekend of indulging, I'm back to my usual breakfast in the hopes that it'll settle my system a little bit: plain oats with frozen berries, jam, natural peanut butter, and cinnamon. Super simple and super delicious! Recycled photo because I was being super lazy first thing in the morning!
Lunch
I have been on a serious salad kick for the last few weeks. It just never seems to get old! This one had butter lettuce, garden cherry tomatoes, cucumber, sundried tomato goat cheese, and poppyseed dressing. With a banana on the side. So many pretty colors!
Snack
Sadly by mid-afternoon I had a nasty stomach ache. I think my tummy is finally rebelling from all of the crap I ate this weekend (worth it!). I ended up going to the local convenience store to pick up some ginger ale and crackers in the hopes of making myself feel better. Thankfully it did help a bit, even if I felt like a pregnant lady walking in to pick up crackers and ginger ale in the middle of the work day! I swear I'm not pregnant (mom)!
Dinner
Since I wasn't feeling great, I also wasn't feeling very inspired in the cooking department. So after looking through all of our cabinets in the hopes that something would call to me, I ended up going with breakfast for dinner. Because you really can't go wrong with BFD! I paired some scrambled eggs with half of a waffle. Not exactly the greenest or healthiest meal, but sometimes you just have to go with what your body is asking for. And my tummy just couldn't handle anything but bland carbs and eggs.
It's all about balance after all! Super green lunch, less than green dinner. Sometimes that's just real life!
Workout
I had originally planned on going to the gym after work, but thanks to my tummy troubles, that didn't end up happening. I did get in a 2 mile walk to and from the convenience store to pick up my ginger ale, so I guess that counts for something, right? We'll call this an active rest day.
Well there you haven't – not my finest of days, but again, that's just real life. In the end, I'm happy that I managed to get in a fruit and veggie filled lunch to balance out my less-than-optimal dinner!
So tell me: What did you eat today? Are you a fan of ginger ale and crackers when you're sick?
For some reason ginger ale always brings me back to elementary school, and thinking that ginger ale had some magical healing powers!
Tagged: sick food, weeknight meals, WIAW