So if I'm being 100% honest, spring is actually my least favorite season.
Now don't get me wrong, right now I'll hands down take spring over more snow, but as a whole it's just not my favorite. It's just so rainy and temperamental! And while I love all the pretty new blooms, it also means that the pollen is out in full force. I don't know how it is in other states, but here in Virginia, the pollen is especially bad this year!
Normally I get pretty lucky and don't feel too many effects from seasonal allergies, but man this year has it gotten the best of me already!
According to Chris, I was up several times last night coughing or sniffling. No wonder I feel so out of it this morning (not to mention the fact that my throat hurts like a bear!). That's what we get for trying to enjoy the nice weather and sleep with the window open!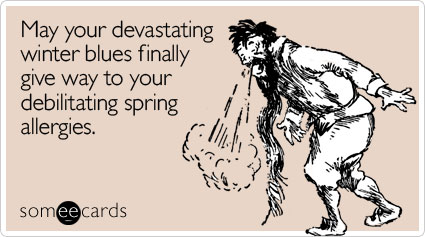 Anyway, I'm struggling a little bit this morning, so please bear with my fuzzy headedness! Any other allergy sufferers out there?
Grocery Haul
So I don't know about the rest of you, but I'm pretty nosy. I love seeing pictures of what other people buy at the grocery store, or what a typical weekly shopping trip looks like for them. It just always gives me some good ideas!
When I was putting away groceries this weekend, I realized that this weekend was a pretty perfect example of the kind of stuff we normally buy. It is going to be a really busy week for us, so we mostly just went with the staples to get us through – nothing too fancy or out of the ordinary.
So I thought I'd share a typical grocery haul with you today! For this trip I went to Wegman's and Costco, although most everything came from Wegmans (unless noted).
Drinks/Dairy/Protein
\– Unsweetened Almond-Coconut Milk
– Orange Juice
– 1% milk for Chris
– Roasted red pepper & spinach chicken sausages (Costco)
– Organic large eggs (Costco)
Grains
– Buttermilk pancake mix (with no funky ingredients)
– Frosted Mini Wheats (Costco)
– Quick cook oats
Produce
– Multipack of mixed bell peppers
– 1 orange
– 1 lemon
– Mint leaves
– Frozen mixed berry blend
– Frozen mixed tropical blend
– Cherry tomatoes
– English cucumbers (Costco)
– Bananas
– Kale mixed salad (Costco)
– Pomegranate blueberry vinaigrette
Total = Approximately $75
Overall, this is a fairly typical grocery haul for us. We try to keep a lot of stuff stocked up in our freezer, so we'll usually only buy 1-2 kinds of protein a week, whenever we start getting low, and we typically buy it in larger quantities to freeze. So this week was the chicken sausages, but on any given week in might be chicken breasts, ground turkey, pork chops or fish.
I also like to watch sales and pick up items like greek yogurt and whole wheat pasta when they go on sale at one of the 3 grocery stores near us. I'm not a huge couponer, but I do try and keep an eye on the sales for anything major.
There you have a typical weekly grocery haul for us! I'd love to hear what your cart looks like!
So tell me: What is in your typical grocery haul? Do you go to one store, or multiple?