Happy Wednesday!!
I'm enjoying this lovely Wednesday at home, which is basically the most awesome middle-of-the-week treat ever. Thanks to having to work last Saturday, I had some flex time to burn and I decided that I might as well break up my week. Although sadly it's not like I'm going to get to sit in my PJs and marathon TV shows all day. I actually have some work to do on a side project that I'm working on.
I'm still staying in my PJs though, so I consider it a half-win.
Anyway, let's get to the REAL point of Wednesday!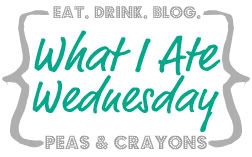 It's What I Ate Wednesday time! As per usual, these were my eats from Tuesday! It's now gotten to the point where my coworkers will remind me if it's Tuesday and I look like I'm about to eat my lunch without taking a picture.
But if you're not familiar with WIAW, I highly encouraged you check out
Jenn's blog
for more information about this awesome blog phenomenon, and to see what other awesome bloggers are eating too! Thanks Jenn!
Apparently my Tuesday was all about the fruits! I didn't even notice until now! But I definitely got more than my daily serving of fruits in!!
Breakfast
The usual – plain oats with frozen mixed berries, jam, nut butter (this one was white chocolate almond butter) and cinnamon. I seriously never get tired of this flavor combo!
Snack #1
For some reason I was a total snack beast yesterday. Around 10:30am I had a rice cake with a little bit of natural peanut butter, and then around 2pm I had a banana. Both of which I scarfed without a picture, so you'll have to use your imagination.
Lunch
Today's kale and spinach salad was topped with herbed feta, tomatoes, hawaiian pulled pork, and ranch dressing. Paired with a pink lady apple (my fave!) and some blog reading! I made the hawaiian pulled pork a few days ago and it made a TON so I've been trying to come up with creative ways to use it up! Luckily it tastes awesome on salads!!
Snack #2
Recycled picture, but it was the same snack as always – greek yogurt topped with homemade granola. Another snack I never get sick of!
Dinner
Dinner was kind of random, because I really wasn't feeling all that inspired by anything in our fridge. So I whipped up some quinoa, and just started mixing. Somehow I ended up with this really tasty lemon, sundried tomato and artichoke quinoa! I wont tell you exactly what's in it yet, because I think I might have to share this recipe! It was so simple and incredibly tasty!
Dessert
Just in case I hadn't had enough fruit today, I made my Lent dessert – frozen mixed berries that I heated for about 1.5 minutes, topped with a sprinkle of homemade granola for a crunch. Healthy berry cobbler!
Workout
My workout came in 2 parts today. I started with an awesome 3 mile run after work. I was worried that it was going to stay chilly and gloomy all day, but by mid-afternoon the sun had come out and dried up all the rain (and the itsy bitsy spider…?) and the weather was perfect for running. So I got in a quick 3 miles before I headed off to my favorite yoga class!
And now I'm going to get feet comments or creepy people looking for pictures of feet.
But regardless, yoga was amazing, as usual. I seriously think this is the best yoga instructor I've ever had! She even remembered that 2 weeks ago I asked her a question about positioning, and came around to check and make sure the suggestions she gave me were helping!
Well there you have it – my fruit-filled eats and my feet-filled workouts! haha. I hope you all have a great Wednesday!
So tell me: What did you eat today? What did your workouts look like?