Phew, how is it only Wednesday! After last week's 5 day weekend, this week sure feels like it's going insanely slow!
Although this morning I woke up to a lovely 2 hour delay, so I'm definitely not complaining about the extra sleep! Poor Chris NEVER gets off for his job, so he was definitely pretty jealous this morning when I got to turn off my alarm and he had to get out of bed.
That also means that I only have about 3 hours at work today, because I'm off early for a doctor's appointment in Richmond! I'm going for a lasik consultation – which is both exciting and terrifying! Time to fix these blind eyes of mine!
Today is also exciting because…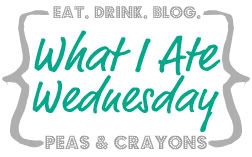 Iiiiiiiiiiit's Wednesday! And of course you all know at this point what that means! It's time for another edition of What I Ate Wednesday!
For anyone not familiar with WIAW, I highly recommend you check out Jenn's blog for more information on what WIAW is all about, and check out some other bloggers and what they're eating! Thanks for the linkup Jenn!
Breakfast
Once again, my usual oats make an appearance. I just can't get over this combo! Oats with mixed berries, peanut butter, mixed berry jam, and cinnamon. It's like breakfast peanut butter and jelly! I paired it with a big glass of water, because I'm REALLY trying to work on getting my ounces in!
Lunch
(Yes, for any instagrammers, this is actually a picture of my lunch from Monday. BUTTTT I ate the exact same thing thing on Tuesday… so it's not totally cheating…)
Lunch was another giant salad (I'm loving them lately!) This time it had romaine, cherry tomatoes, shredded carrots, Mediterranean feta cheese, and salt and pepper sliced almonds and topped with some italian dressing. Paired with a pink lady apple. Yum!!!
Snack
Another recycled photo, because I was running late and totally scarfed my snack so I could run to the train. So no, my yogurt didn't expire in December, don't worry. I paired this Mango Guanabana Fage with a sprinkle of granola for a little extra crunch.
Dinner
Our original evening plans got tossed after we had to make an emergency appointment at the vet for Laney this evening (thankfully it's nothing life threatening, but we are going to have to give her meds probably for the rest of her life. Poor puppy!) So our original dinner plans didn't work, and we had to rush to meet up with some friends for bible study bowling!
Sadly I had a hard time saying no to this amazing buffalo chicken pizza, and definitely ate a slice (or two) too many. It probably wasn't my best life decision, but it was quite delicious, and in my opinion – life is all about moderation. Sometimes you just have to splurge a little!
Plus it was worth it just to get to spend some time hanging out with these lovely faces. Darn giant lamps killed the lighting, but you get the idea!
Sadly no workout happened today due to our change in plans, unless you count my arm nearly falling off after 3 games of bowling. I have a feeling my poor shoulder is going to be even more sore tomorrow!
I hope you all have a terrific Wednesday and I'll catch you tomorrow!
So tell me: What did you eat today? Do you enjoy bowling?