Well guys, first snow day of the year in the books!
It was officially a super lazy, relaxed day. And it was perfect. We slept in, marathoned a few TV shows, cleaned up the study, Chris convinced me to play some Xbox game that I was terrible at… all around a great day!
And today might end up turning out to be a snow day too! I'm waiting it out a bit to see how the roads look (Chris had to go in early this morning and said that they were horrendous). And well, I'm not trying to die today. Not worth it. So we'll see! I sure wouldn't mind another day to relax on the couch, that's for sure!
But since we're trying to keep things somewhat normal around here, let's get to our usual business:WIAW!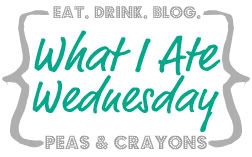 For anyone not familiar with What I Ate Wednesday or what it is meant to represent, I highly encourage you to check out Jenn's blog. She has a great explanation of what WIAW is and isn't, and it's a great way to see what other bloggers are eating!
Breakfast
Proof that I was totally out of my routine – I completely forgot to take a picture of breakfast! It felt so much like a weekend morning!
Since we had breakfast for dinner on Monday night, breakfast was basically leftovers – apple cinnamon pancakes with apple butter, a small chicken breakfast link, and a banana. Plus a cup of decaf chocolate hazelnut coffee! Yumm!
Lunch
I decided to go ahead and eat the lunch I'd already planned on bringing to work, solely because I was too lazy to make anything else. That's what happens on snow days – you get a little lazy (I may or may not have been in my PJs until about 4pm… whoops!)
Anyway, for lunch I made a salad topped with tomatoes, peppers, leftover BBQ shredded chicken, cheese, and tortilla chips. With a little extra BBQ sauce for dressing. It was seriously SOOO good and so filling. I am always bad about making salads in the winter, but I need to get on that again! yum!
Dinner
Chris and I have been on major freezer cleaning duty lately, so I pulled a few salmon fillets out to thaw the other day and decided tonight would be the perfect time to use them. I paired the salmon with a quick and easy "fried rice" on the side. Recipe coming soon, because this meal was super delicious and SO simple to make!
Dessert
Seeing as it was a snow day and at the time it was STILL snowing outside, we decided the perfect end to the day would be cinnamon sugar air pop popcorn and some adult hot chocolate (aka hot chocolate with a little alcoholic kick). I absolutely love air popped popcorn, because it's so simple to make and on its own has very few calories. Way better than the 1,000+ calorie movie popcorn junk!
We finished off the night in front of a fire catching up on Biggest Loser episodes. Definitely my kind of snow day!
Workout
Even though we obviously weren't able to make it to the gym today, I still got in a workout (even though I REALLY didn't want to get out of my PJs). I completed about 45 minutes worth of pilates videos, which I definitely think I'm going to be feeling tomorrow. Those mini-movements always seem to bite me the next day!
Overall, not too shabby for a snow day! I kind of wish they happened more often! I could use more quality relaxing time like this!!
So tell me: What did you eat today? What do you like to do during snow days? If you don't get snow days, what do you think you WOULD like to do?