Hey Thursday, when did you get here?
Thank goodness that this week is actually flying by, because I could use a weekend right about now! It's been one crazy, stressful week and I'm just kind of over it. Bring on the holidays!
I was unfortunately out super late last night because I went to go see the Nutcracker with my mother in law, so I am running super low on sleep today. Which means we're going to make this quick and simple, and get right down to it. It's time for another edition of Boys Behind the Blog!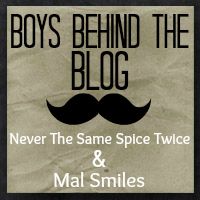 If you're not familiar with BBtB, it's basically a chance to give our significant others that are usually behind the screen a chance for center stage. Thanks to Mal and Stephanie for the linkup and the great idea!
So without further ado, here is Chris!
1. What is your favorite cereal?
When it comes to cereal, each of them has a purpose. So picking one favorite, well that's like picking your favorite child. They're all my favorite. I just have ones that I like better than others. Generally, I'll stick to Peanut Butter Multi-Grain Cheerios, Life or the Quaker Oatmeal Squares, or Frosted Mini-Wheats. If I'm lucky, Stephanie lets me have Cocoa Puffs and then all bets are off. I will tear through that box like nobody's business. Whoever came up with the genius idea to have a cereal that actually gave you appetizing milk to drink at the end was genius! Seriously, who doesn't love chocolate milk?! Nobody wants to drink the nasty stuff leftover with bits of cereal left in it.
Cocoa puffs are pretty awesome… we go through cereal like no one's business in our house.
2. Pancakes or waffles?
Again, as with cereal, each has its place. You can't do chicken and pancakes, but you also can't easily mass produce waffles. Typically I stick with pancakes because they are easier and quicker to make, but waffles are pretty awesome because of their versatility. Think about it, you have waffle cones for ice cream, chicken and waffles for a more savory meal, Belgian waffles topped with fruit. The list goes on!
3. What is your favorite holiday tradition?
My favorite holiday tradition has to be that we get an ornament for every year. I have at least one ornament for every year since I've been born and each has a special meaning based upon something that happened that year. I have one from when I was in 5th grade that is of the Beatles' Yellow Submarine because my teacher was OBSESSED with the Beatles and that movie, so therefore I developed an interest in the Beatles. There's ornaments for when I went to college (I received multiple VT themed ornaments during my 4 years), for when we got married and bought our house. There's even an ornament on the tree for Laney!
It is really cute to go back and see all of his ornaments. But then we have to explain to people why we have a talking darth vader on our tree…
4. Finish the sentence: All I want for Christmas is…
All I want for Christmas is to win the lottery. Well that didn't happen on Tuesday night so I guess I'll have to come up with something else. All I really want for Christmas is some time to relax. Stephanie's told you all about the travel I've had for work in the past month, well that also comes with a lot of work involved. Not to mention the fact that I've been struggling through a class I'm taking that has occupied at least 3-5 nights a week for studying, doing homework, and other requirements. I'm ready to just relax, sit by the fire, and enjoy being with family.
Yes, winning the lottery would be terrific. But this guy does deserve a break – his life has been a little insane lately. I'm feeling a mental health day coming on!
5. What is your best moment of 2013?
2013 was a pretty fun year. I ran my first (and second) half-marathon, ran several obstacle/mud runs, and had some exciting vacations out to Texas, Arizona, and New York City. I think the best moment though was becoming an uncle and getting to meet my little niece for the first time. She's absolutely adorable. I'm hoping we will get to see her and my brother and sister-in-law this Christmas.
She is the sweetest thing ever and I love her.
Well there you have it, a little insight in to the boy behind My Freckled Life. I hope you enjoyed it!
So tell me: What is your favorite holiday tradition? Pancake or Waffles?