Phew! Yesterday was kind of a crazy one.
Thanks to the holidays, work has been really stressful lately, which is definitely beginning to seep in to my morale. I ended up feeling like I was sitting with my shoulders to my ears all day I was so tense and on edge. Definitely not the way you want to spend your Tuesday!
Thankfully the countdown to Christmas is now in the single digits, so I just need to make it through the next few weeks and things will hopefully get a lot more relaxing in the new year. Plus I have some fun things happening in the next few weeks that I'm really excited for! Anyone else doing fun things for the Christmas holiday?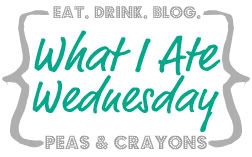 It's What I Ate Wednesday! For anyone not familiar with this awesome blog concept, it's basically where bloggers list their eats for the day, and share with others free from judgment or comparison. It's just a great way to get a glimpse in to what other people are eating, and get your own ideas! To learn more or see what others are eating, please check out Jenn's blog! Thanks for the link up Jenn!
Breakfast
Breakfast was what I like to call PB&J oats. It was oats topped with frozen berries, cinnamon, natural PB and some strawberry jam. Mixed all together it tasted just like a PB&J sandwich!
Lunch
As per usual, lunch was leftovers. Which I feel is what I have for lunch at least 4 days a week! Clearly I need to learn to cook for just 2 people, and not for 10. Anyway, yesterday's lunch was leftover turkey stew, paired with an apple. Simple and delicious.
Snack
My typical afternoon snack has definitely become a yogurt for the past few months. Yesterday it was key lime, which is probably one of my favorite new flavors. Well done, Chobani!
When I got home a few hours later, I also snacked on a few chips with salsa, since I knew dinner would end up being fairly late. Little did I know…
Dinner
Dinner was a bit of a last minute decision, because it turned in to a super late night. By the time I left the gym, it was after 9pm, so instead of trying to throw something together at home, I made a stop by Noodles & Co on the way home to pick us up some dinner. And let me tell you, it sure beat PB&J. I ended up with the penne rosa (like always) with chicken. It was delicious, even it was super late by the time I ate it!
Workout
So I can't remember whether I've mentioned this before, but Chris and I are considering switching gyms because we just don't feel like our current gym is worth the cost anymore. Most of our favorite trainers left (and took the classes they teach along with them), and the times for classes really aren't good for us. So basically we're just paying to use the machines, which we can do elsewhere.
Last night I ended up trying out a new gym with my friends Jax and Lindsay (from Typically Late). There was an option to try out a free class at this gym, so we hit up a yoga class which I LOVED. After a stressful day of work, yoga was just what I needed to lose all the tension I was holding in my shoulders. I didn't quite realize how much I missed yoga until now! Totally failed on a picture though… bummer!
I'll keep you updated on the gym membership front. We really just need to crunch the numbers and look at the best options for the best cost. Man do I miss the days of free gym memberships in college!
Well there you have it – my eats and my workout for the day! Happy Wednesday!
So tell me: What did you eat today? Do you have a gym membership?