Good morning and happy Thursday!
I am going to do something a bit different this morning, because well… this is my blog and I feel like it.
You all obviously hear a lot about my husband Chris around here, but he's never actually done any writing or guest posting on my blog. As he says, he does the tech support, I do the writing. Because goodness knows as soon as something goes wrong with my computer, my first response is to want to throw it across the room. Thank goodness he stops me before I actually do that, and fixes the problem!
That's why I keep him around!
Well after I met Mal and started following her blog Mal Smiles, I came across this fun linkup that she started with Stephanie from Never The Same Spice Twice about the boys behind the blog, where they give out 5 random questions for your guy to answer and share every month! I feel like a lot of us fall in this boat – we talk a lot about our husbands/boyfriends/partners, but you all never get to really meet them!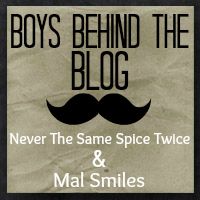 Because it sounded fun I decided it would be fun to jump in this month (aka I conned Chris into answering the questions).
So without further ado… Introducing my husband, Chris:
1. Describe yourself in 5 words.
I never know with these, are you supposed to use 5 separate words or a 5 word phrase? I'm going to do 5 separate 5 word phrases because this is about me and I MAKE THE RULES.
Engineer nerd made a sentence.
A walking Hokie football encyclopedia.
Online more often than not.
Wannabe chef for company only.
Rule bender, not rule breaker.
All of this is extremely accurate. Especially the only cooking when company comes over. I cook 99% of the time, but inevitably, whenever we have people over, he always ends up making dinner, making it appear like it's an all the time thing. The faker.
2. What is your biggest fear?
I don't have a fear of heights, but I do have a fear of falling. I don't mind being up high as long as I'm secured like being in a roller coaster, but being on the edge of a cliff makes me uneasy. It's funny because I love indoor rock climbing, but that really pushes my limit since I'm relying on someone else to keep me from falling. Putting up Christmas lights is also a tough one even though we only have a 1 story rambler.
Yet he still has to be the man and climb up on the roof, even though I have zero fear of heights and like to pretend I'm spiderman. Sigh… men.

3. What is your favorite candy?
I've got a major sweet tooth so candy doesn't last long around me, but the one I can't get enough of is the Peppermint White Chocolate Holiday M&M's. I must stock up on them this Christmas.
Now I know what is going in your stocking…
4. What was the best Halloween costume you've ever worn? (include pictures if you have them)
I was never into Halloween for the costumes, just the candy. As a kid, my grandmother made most of my Halloween costumes from the patterns they sold at Wal-Mart so it was more about having something handmade than having something awesome. My sister and I often tag-teamed costumes to match each other (more like my mom thought it would be a great idea). We had ones like John Smith and Pocahontas as well as Dorothy and the Scarecrow. I know, adorable right? My favorite costume that I chose though was when I tag-teamed with Stephanie as the Big Bad Wolf and Little Red Riding Hood.
Proof.
5. Who is your favorite football team?
I could care less about professional football. I grew up in a baseball-watching house. As far as my level of caring goes, professional football is behind college football, professional baseball, college basketball, and professional soccer. So we'll go with college team here and I bet none of you would guess that I like the Hokies.
Did anyone not see that one coming? Come on.
Well there you have it – a little insight into the man behind the blog and the guy that puts of with my random recipe trials, constant picture taking, and computer freakouts. Hope you enjoyed it!
So tell me: What does your significant other think about your blogging or food/exercise habits? If you're single, do you think it's important for a significant other to have the same views on food and exercise as you?