During my week-ish off of work, I obviously had a ton of free time I needed to fill. Being the super type-A person that I am, sitting around watching TV in my PJs gets boring after about hour 3. So I needed to find other things to fill my time.
That basically meant a lot of errands, a lot of time at the gym (although I did get to try out some new classes – win!), and doing various projects around the house.
So when my MIL invited Chris and I to go hiking with them on Friday, I literally jumped at the chance.
We are lucky in that we live in an area of Virginia that is not only close to DC and Richmond (I'm about halfway in between, in fact), but we're also about 1.5 hours from the mountains and Shenandoah National Park. Seeing as the park is part of the Appalachian Trail, there are a ton of awesome places to hike, climb, explore or camp!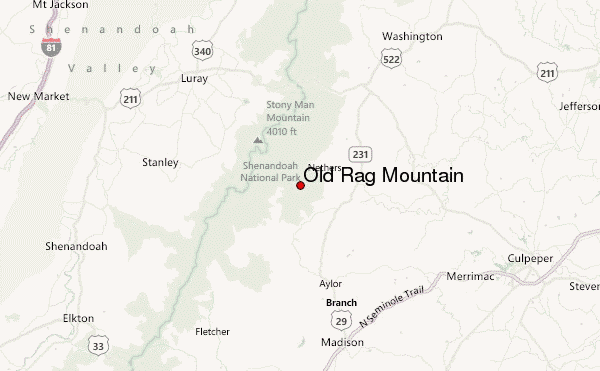 (source)
For you non-VA people, the most recognizable place on that map may be Luray Caverns (one of the biggest caverns in the US, I believe?), which is just on the other side of the mountain.
So Friday morning, off we went through the country to Old Rag Mountain!
The trail started out as a fairly easy woodsy trail, with a small incline but definitely nothing crazy. It was absolutely beautiful though, as the leaves in VA are just beginning to turn colors. Sadly I spent most of my time watching the ground so I didn't trip over roots or rocks (#klutzalert), but we did make a few stops to enjoy the surroundings!
After about an hour or so, we made it onto the first ledge. We were finally above tree-line and you could start to see some of the gorgeous farms and woods of central VA.
This also marked the next section of trail, which we affectionately nicknamed the rock scramble. Because that's literally what you were doing; climbing up/over/under giant rocks. This is the wilderness, folks!
Of course we had fun posing with some of the very precariously perched rocks…
I also had fun pretending that I was Spiderman. Chris kept calling me a monkey, because I don't have a lot of fear of heights, so I just scurried up and over rocks. The only thing I didn't like was having to leap from one ledge to another, knowing that there was a big drop and I have super short legs!
After about 2 hours we were really starting to get hungry. Chris' step-dad kept saying "I swear, the Summit sign is coming up soon"… about 100 times. But FINALLY we saw the sign! I was a little bit too happy.
And we proceeded to enjoy a nice lunch on the top of the world.
After eating and resting for a bit, we decided it was time to head back down. Luckily the trail is a loop, so we didn't have to go DOWN the rock scramble! The down part of the loop was actually really easy and was much more like normal trail hiking. No leaping over ledges!
We finally reached the bottom, just over 4 hours after we started. And I have to say, that was a pretty good workout for a Friday morning/afternoon! While my legs were a little tired that evening, they were screaming at me on Saturday morning! Honestly, they felt about the same as when I ran a half marathon! All that climbing was quite a glute workout!
I would absolutely recommend Old Rag to anyone in the area (or anyone who wants to come visit me!!). I am already looking forward to going back and bringing some friends! All-in-all, I would say it's probably a moderate level hike (I wouldn't recommend it to anyone who gets winded easily), especially when it comes to the rock scramble. But it was absolutely worth it for the view at the top!
Plus who doesn't love feeling like Spiderman?!?
…Or is that just me…
So tell me: Have you ever hiked Old Rag, or any part of the Appalachian Trail? Do you have hiking options where you live? If not, what are some of your favorite outdoor workouts?