Well, we made it to Wednesday! Halfway through the week already! This week has actually been going pretty slow for me so far, so I'm happy to finally get to the halfway mark.
Don't you hate weeks like that?
Thankfully we have another weekend at home this weekend, so I have something to look forward to!
Anyway, it's Wednesday, and I'm pretty sure that by now you all know what that means. What I Ate Wednesday, of course!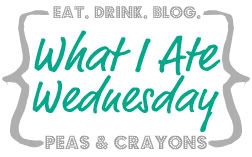 For those of you who aren't families with WIAW, I definitely encourage you to check out Jenn's blog for more information! It's an awesome blog phenomena that's all about celebrating food and sharing with others, without judgment. Thanks Jenn for the link up!
Breakfast
My breakfast looked like this, except I ended up running SUPER late this morning late so I had to throw everything into a glass container and eat it once I got to work. Not my ideal way to eat breakfast, but at least I got it done! It was just a bowl of oatmeal with frozen berries, cinnamon, some jam and a spoonful of natural peanut butter. Paired with a cup of tea.
Lunch
There was a big, organization-wide work event today, so instead of my planned leftovers for lunch, I ended up picking up food while I was out with my coworkers. I got a food truck falafel in a pita with a TON of veggies and tzatiki sauce. This seriously was SO filling, it was kind of insane. I forgot how much I love falafels! I need to get these more often!
Snack
I ended up eating an apple after my workout, but I'm pretty sure you all know what an apple looks like.
Dinner
One of my favorite things about fall is SQUASH! So many fun fall/winter squashes! We picked up some spaghetti squash at the farmers market this weekend, so I baked and shredded it, and topped it with marinara and homemade turkey meatballs. And parm, of course!
Dessert
Leftover birthday cake! Chris made a delicious apple caramel spice cake that we've been slowly making our way through. So to help, I decided to take one for the team and have a (super thin!) slice after dinner. Yummmmm!
Workout #1
Now that the half is over, I've picked back up where I left off with an old Best Body Bootcamp. I'm nearly done with this plan, so I'm really debating what to do next. I've been thinking about Jamie Eason's LiveFit trainer. Anyone have any experience with this?
Anyway, today's workout was 15 minutes of elliptical intervals, followed by a superset workout, and finished with 5 minutes of incline walking.
I had also planned on hitting up a spin class after work, but unfortunately due to some mechanical issues, the train was nearly 45 minutes late to the station, so I ended up missing my class. Definitely a little bummed, but sometimes life just gets in the way and you have to roll with it!
Well, there you have it – my eats and my workouts from Tuesday!
So tell me: What did you eat today? Any experience with LiveFit Trainer?