Well, we've made it to Wednesday!
Or HUMP DAYYYYYYYY! as I've now started calling it in my head every time I hear the word "Wednesday". Well played, Geico marketing department. Well played.
Anyway, this week has definitely been a bit of an interesting one for me. Between recovering from the race (meaning an off workout schedule), not getting a chance to do ANY meal planning this weekend (meaning an off eating schedule) and having to work some crazy hours at work this week (meaning an off schedule in general), I'd say that so far this week I've been feeling pretty… off.
Nothing bad, per say, just a little bit lost. I'm a super type A planner kind of person, so for me not having a schedule or a general plan is like blindfolding me and dumping me in a giant forest in the middle of Idaho. I'm totally lost and have no idea what to do.
(Does Idaho even have forests? Tells you my Mid-West knowledge right there…All I know about Idaho is potatoes and a blue football stadium)
ANYWAY, I have a feeling that this weekend is going to be a great time to recharge and get myself reorganized. New game plan. Plus, it's my birthday, so that always makes for a nice weekend! I have never been a huge birthday person, but I'm also not going to lie – getting presents just for being born is a pretty awesome concept. It's not like I did a whole lot in that process.
Wooo, I'm super tangent-y today, arent I? My apologies.
Focus, Stephanie, focus. Wednesday, hump day… RIGHT! WIAW!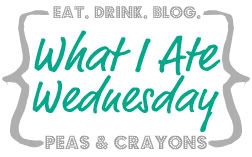 It's time for a WIAW! What is What I Ate Wednesday, you ask? Well it was created by the lovely Jenn to help us share and celebrate our food, without any fear of judgment. It is an amazing concept that has taken the blog world by storm, and I truly encourage you to check out her page (and her adorable new chickpea) to find out more.
Breakfast
So I went to Wegman's hungry the other day, and walked out with these (my ONLY splurge purchase, so I consider that a win). Organic blueberry whole wheat waffles. They are amazing, and was definitely a nice change of pace from my usual cereal. Topped with unsweetened apple sauce, because I like it way better than syrup. Paired with some earl grey tea for the caffeine factor.
Lunch
Lunch consisted of a leftover veggie bowl that I made last night (which I'm hoping to share with you all soon), and an apple. However, for some reason I was just STARVING all day. So soon after I finished my lunch (and my stomach started growling again, I dug into my snack early: a Fage blueberry acai yogurt. I'm mildly obsessed with this stuff, and dare I say it may even replace Chobani for awhile? You should definitely check it out.
Snack
After the gym I ended up getting a smoothie from our little gym smoothie stand. I don't know why I was so famished today! Super delayed half marathon hunger? Hormones? No idea. Anyway, I ended up picking a "skinny minny" shake, which was banana, banana protein powder, almond milk, and some PB2 powder. Tasted exactly like a peanut butter banana, and was so filling I could only finish about 3/4 of it by the time I left work. Holy protein!
Dinner
Dinner ended up being really late for us thanks to complications with my evening workout. Poor Chris was stuck at home doing homework, and patiently waited until I got home to eat dinner. Since it was almost 9pm, I threw something super quick together – grilled pork chops marinated in an balsamic herb sauce, green beans and toast. While the pork chop was good (I could only eat about half this sucker), the green beans and toast were especially delicious as I threw a bit of this on each:
Some garden herb butter we picked up at Costco this past week. Seriously, this stuff is like crack. I want to put it on EVERYTHING.
Dessert
Dessert, if you could call it that, was a cup of peppermint tea. Chris and I have both come down with a bit of a post-race, weather-change cold, and it sounded like a good idea for my sore throat. Peppermint tea might just be one of the most relaxing things ever, in my opinion.
Workout #1
My coworker and I hit the gym on our lunch break, but I decided to take it a bit easy with my still sore legs. I started with 20 min of elliptical intervals, followed by 20 min of arm supersets and 15 minutes of abs. Nothing too crazy, but just enough to get everything moving again.
Workout #2
The original plan was to meet my coworker after work for a hot yoga session at her usual yoga studio, since I'd never tried one before. However, thanks to an INSANE amount of traffic, I managed to get to the studio about 10 minutes after class started and missed it. Luckily the people there were extremely nice, and let me trade that walk-in pass for a power yoga class that started 15 minutes later. So instead of the hour of hot yoga I'd planned, I instead got a 90min power yoga session. Sounds like a good deal to me!
It ended up being just what I needed to stretch out my legs. We did a ton of leg stretches and spent some time working on head stands. I forgot how much I missed yoga! Maybe I'll have to look in to finding some classes closer to home!
Basically the rest of my evening has been spent like this:
This is what happens when we have 2 dogs in the house again. They spend so much time playing and chasing each other outside, that they basically come inside and immediately crash on the floor. It doesn't get much cuter than that!
Well there you have it – my eats and my activities for yesterday! Not too bad for an off kind of week, but I'll be happy to get a normal routine again!
So tell me: What did you eat today?