So growing up, I was pretty much a caffeine addict. I remember that I used to drink a soda every SINGLE morning before school (I was on the Dr. Pepper train hardcore). Once I got to college, I switched to Diet Dr. Pepper (oh yea, SO much better for you, Stephanie…) and was easily downing 2-3 a day.
Thankfully I've totally moved passed my terrible soda habit, and don't drink soda at all anymore. In fact, we try to get rid of as much High Fructose Corn Syrup and artificial sweeteners as possible in our house.
However, my caffeine habit still stands strong.
Especially when I'm running low on sleep. Or in my current case, have still not caught up on sleep from a crazy vacation and a redeye.
I've been riding the struggle bus hard the last few days. Thank goodness for coffee.
What I really need is to just suck it up and go to bed super early one day. But for some reason, I can never make myself! Does anyone else have this problem?? In the morning I'll say, "Man, I just need to get in bed at 9pm and just catch up on sleep!" But come 9pm, I have a million things to do (and an episode of So You Think You Can Dance calling my name), and before I know it it's 11pm and I'm still not in bed. Please tell me I'm not the only one with this issue.
Maybe tonight will be the night!
But anyway… (focus, Stephanie, focus!) it is Wednesday, and I'm pretty sure by now that you all know what that means. It's time for a What I Ate Wednesday!!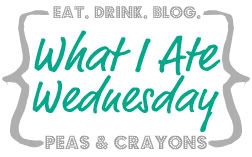 For anyone not familiar with WIAW, please check out Jenn's blog for an explanation of how WIAW is meant to help us share and celebrate our food!
Since I've talked (written?) your ear off this morning already, let's hop right in!
Breakfast
I changed it up this week!! No more cereal! Mostly because we were out… haha. So I went back to an old favorite of mine: Oatmeal! I topped some rolled oats with natural peanut butter, homemade peach jam, and some frozen berries. It was nice to bring back some comfort breakfast!
Lunch
Remember when I talked a few days ago about trying to get back to a normal routine, especially in terms of eating habits? Well I took the first step towards that today by making a giant salad for lunch! I wasn't feeling any salad dressing that I had in the fridge, so I decided to top it with some black bean and corn salsa, and some greek yogurt. Delicious.
Snack
I had originally brought a coconut chobani to work, however it tasted seriously off (like acidic and yeasty…bad batch maybe?) Since I knew I had a bunch of sprints to complete after work, I thought that some kind of snack would probably be smart. A Jamba Juice JUST opened up near my office (like earlier this week), so I decided to test it out. This was my first Jamba Juice experience, and I have to say that I was seriously impressed, minus the price. I had a Razzmatazz "Light", which meant that instead of putting in frozen greek yogurt, they used just milk, fruit, and fruit juice, with no extra sugar (and no artificial sugar, like most "light" smoothies). A 16oz was only 180 calories and definitely hit the spot.
Dinner
Ever have one of those days where you're just not feeling inspired? Yea, that was us tonight. Hence breakfast for dinner. Simple and delicious, and it hits the spot every time. I had half of a blueberry waffle (yes, that's HALF of one!) topped with unsweetened applesauce, and some scrambled eggs with siracha. Does anyone else put applesauce on their waffles/pancakes, or just me? We grew up doing it, so I personally think it's way more delicious than syrup. But maybe I'm just bizarre.
Workout #1
Like usual, I hit up the gym during my lunch break and cranked out a Best Body Bootcamp workout. I'm currently repeating an old one (Round 2, baby!), but I'm loving it just as much the second time around. The only hard part? The gym near my work is really not conducive to circuit workouts. Too many people!! I try to stake out my little corner, but sometimes I have to modify things a bit just do I don't have 8 different weight sets in front of me!
Workout #2
After work I met up with Chris at the gym to get our run in. After yesterday's disaster, I was a little nervous because we were scheduled to bust out 10 x 400m sprints (which totals about 3 miles of sprints, plus fast walks in the middle). Thankfully I was able to bust them all out no problem. Phew! I have to admit, I have a new appreciate for sprinting after this half training! We also completed about 15 minutes of abs, since I've totally been neglecting my core lately.
There you have it – my eats and my workouts for Tuesday!
Have a great Wednesday. After all it is HUMP DAAAAAAAAYYYYYYY!!! (Sorry, I had to!)
So tell me: What did you eat today?