Can you believe that it's already Wednesday??? I feel like this week has been speeding by! Not that I'm complaining at all, because I'm headed to Texas this weekend!
I'm definitely looking forward to some time away, playing with my adorable new niece, and relaxing!
But until then, it's been a bit of a crazy few weeks for me. I know I mentioned this before, but we have some good friends that are getting ready to move halfway around the world (SOOO SAD!), so we're basically taking every opportunity possible to hang out with them! We keep joking that we're in like a summer friendship fling – we know it's going to end soon, so we're trying to find EVERY chance to spend time together!
This week alone we've spent time with them Friday night, Sunday all day, Tuesday night, and we're hanging out with them again tonight. Friend overload? No such thing!! Sadly tonight will be the real goodbye… they are leaving on Friday!!
Well now that I'm totally depressed at that thought, let's get into something that I know is cheerful! What I Ate Wednesday!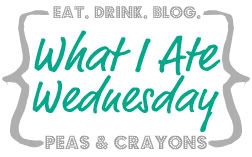 For anyone not familiar with WIAW, please check out Jenn's blog for a beautiful explanation about what it is and what it isn't.
Breakfast
Changed it up a little this week!! I decided to take a detour from my usual cereal and go for some oatmeal instead. This one had peanut butter, frozen superfood berries, and some homemade granola. Plus my gummy vitamins on the side! Such a child!
Lunch
Lunch was pretty dull today actually. Leftover turkey burger with thin slice cheddar, a few random pieces of leftover squash, and some cherries. Sadly this one didn't hold me over as well as I would have liked and my tummy was grumbly again by like 3pm!
Snack
Due to the aforementioned grumbly tummy, after the gym I totally caved and got a smoothie. Mine included strawberries, banana, spinach, and protein powder. It was so delicious that I practically gulped it down before I even got out to the car.
Dinner
So, this is proof that I don't always make the healthiest choices. We met up with some friends to bowl, and while looking through the menu (which really was limited in it's healthy choices), this buffalo chicken pizza was like screaming my name. So I caved. And man was it worth every cheese-y, buffalo-y bite!
The rest of the evening was basically spent hanging out with this crazy kids, who I'm going to miss terribly!
Workout #1
As per usual, I was able to run to the gym by my job during my lunch break, and got in 10 minutes of elliptical intervals, followed by an old Best Body Bootcamp workout from Tina. This one had a TON of arms, and I'm seriously feeling it today! Jello arms!!
Workout #2 ?
The original plan was to meet up for bowling, bowl a few frames, and then Chris and I were going to head to the gym to get in our sprints for the week. Except… that didn't exactly happen. We (ok, I) got so caught up in hanging out with our friends that I didn't even realize it was almost 9pm. And I'm pretty much again sprints after 8:30… that's just not right. So we decided to bail on them, and my friend Brit and I are going to run them together tomorrow after work.
Whatever works right?
Well I hoped you enjoyed seeing my eats and bowling skills from Tuesday! I think it's safe to say that I will not be entering any bowling tournaments in the near future…
So tell me: What did you eat today?