It's finally Friday!!
I don't know what it is, but this week has just DRAGGED ON for me. I pretty much woke up every morning thinking that it was Friday, and was sorely disappointed when it was only Tuesday (Darn Tuesday!). It probably also doesn't help that I've been SUPER busy every night this week, and haven't been getting home until bedtime (or later). No time to relax at home makes me grumpy!
But it's Friday, and I'm looking forward to a chill Saturday and a fun Sunday this weekend. I'm hoping it'll be just what I need to catch up on sleep and get back into the groove.
Since it's Friday after all, let's just jump right into a Five Favorites Friday! For those of you who aren't familiar with FFF, it's basically where I share 5 totally random things that I've been loving this week.
1. Favorite New Party Game: Cards Against Humanity
Guys, if you haven't played this game with 5 of your closest friends yet, get on that immediately. Cards Against Humanity is basically like the adult, totally not-politically correct, mildly vulgar (ok sometimes really vulgar) version of Apples to Apples. And it is awesome. Highly recommend it, especially after a few glasses of wine.
2. Favorite New TV Show: Breaking Pointe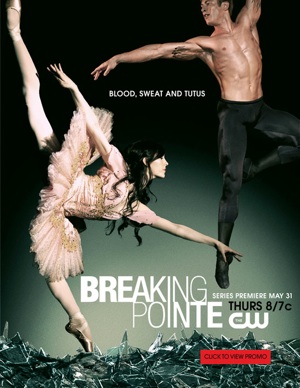 There are two things that I really, REALLY love watching on TV. Reality shows that follow someone's life, and dancing shows. When my sister (who clearly knows me well) facebook messaged me letting me know that I should start watching Breaking Pointe, I was a little unsure. But now I am totally hooked. It basically follows 6 of the dancers from Ballet West, a ballet company in SLC Utah, as they prepare for a performance. Sounds boring, but I promise you that it is absolutely fascinating!
3. Favorite Summer Eats: Fruit Salad
Growing up, I was not a very big fruit eater. I could munch all day on veggies, but I just never thought to grab myself an apple or some grapes. This summer (and this week especially), I've been absolutely OBSESSED with fruit for some weird reason. I made a huge batch of this blackberry, blueberry, strawberry and mint mix the other day, and have basically been eating it non-stop!
4. Favorite New Work Distraction: What's the Phrase
(source)
I am normally not a game-on-your-phone person at all, but my coworker got me hooked on this game last week, and I've pretty much been playing it non-stop ever since! It's basically jeopardy, but you can play against another friend. And the categories are pretty awesome too, like "first world problems" or "Movies". If you're a game person, you should definitely check it out (I'm looking at you, all you Candy Crushers!)
5. Favorite Re-discovered Fitness Move: The Plie Squat
(source)
I love it when you come across a fitness move that you've completely forgotten about, because it becomes all new and exciting again! While doing an old round of Best Body Bootcamp, I came across the plie squat, which I probably haven't done since the LAST time I did BBB! And now I remember how awesome they are! Such a nice change up from just the normal squat.
There are so many variations of this move too, including lifting the heels, incorporating an arm move with it, and adding weights. I may look pretty ridiculous doing these next to some of the macho guys at my gym who hog the weight area, but I'm totally ok with that. Because I'm in love with them.
Well there you have it, 5 totally random things I'm loving this week. I hope you all have a terrific weekend!
So tell me: What are you loving this week?