I'm late, I'm late…
For work! AHH!!
This was one of those mornings that just wasn't destined to be crazy from the get-go. I got in WAY too late last night (worth it!), didn't get a chance to shower yesterday, and didn't plan my lunch ahead of time. Which basically is a recipe for disaster with me in the mornings, because I am SO not a morning person.
So in between running around the house with a towel on my head and my makeup half done, trying to figure out what in the world to make for lunch, I'm going to give you the worlds fastest What I Ate Wednesday post!!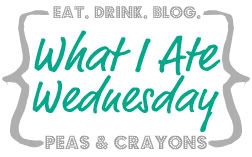 Because being late to work is worth it for WIAW!
For anyone not familiar with WIAW, please check out Jenn's blog. Thanks for the link up, Jenn!
Breakfast
I finally decided to change it up today! For whatever reason I just wasn't feeling cereal, so I went with 2 fried eggs (one yolk already broken, apparently), and a piece of toast with some homemade peach vanilla jam.
Lunch
Lunch was kind of a random combination today. I had some apple curry chicken salad from the farmers market (made by a very cool initiative in the Fredericksburg City Public Schools to get healthier options in the lunch room!), and a small salad with mixed veggies, farmers market tomatoes, and a sprinkle of cheese.
Snack
I was originally planning on having a yogurt after my workout, but when I went to open it, it had gone bad! 6 days before its expiration date, too!! Darn it! So I was totally starving by the time work ended, and after my run I completely caved and made a stop at Starbucks before heading to girls night. I ended up with an unsweetened passion iced tea lemonade, and a kind bar (LOVE this blueberry vanilla cashew flavor!)
Dinner
As is becoming a little bit of a tradition, I met up with some of the girls from my bible study for a girls night. One of them is about to move away (SO SAD!), so we're trying to fit in as many as possible before she goes! She was awesome and made us some homemade margarita pizza that was amazing and a nice side salad. I also brought some Papa Johns breadsticks, which were also delicious but definitely not as healthy as this pizza!
Oh, and several glasses of red wine were consumed.
It was an awesome time getting to hang out with these girls and chat about life, love, and all sorts of other nonsense!
Dessert
And of course we finished the evening with dessert – chocolate fondue and a variety of fruits. We totally dominated this plate!!
So there you have what I ate, how about what I sweated? (<—does that sound weird to anyone else?)
Workout #1
As per usual on Tuesday I headed out to the gym near my office during my lunch break. I've been following an old Best Body Bootcamp, and it was the first day of phase 2. Man oh man, am I feeling those push muscles today!! I love the way that Tina can totally push me farther than I ever thought I could go!
Workout #2
After work and before meeting up with the girls, I had a 40 min tempo run to complete per my training plan. So I just ran around the neighborhoods near my office, praying I wouldn't get lost! This was one of the first times that I've run without Chris in the last few months, but for whatever reason I was just jamming out and had a great run! Even when it started raining!
Best part for me? I ended up with all negative splits (that rarely happens for me!): 10:04, 9:43, 9:13, and 9:00! Woohoo!!
Well there you have it, what I ate and what I did yesterday – the super speedy version. I hope you enjoyed!
So tell me: What did you eat today?