See what I did there, with the rhyming title? Yup, I thought I was clever too.
So yesterday was definitely a weird one around there parts. Unlike my of my DC and Northern VA friends who got out of work for a snow day, my office decided that it wanted to stay open. So we all had to brave the snow and ice and make it in to work. It was an interesting experience for sure, because Virginians don't know how to drive in snow AT ALL.
Needless-to-say, it was a super slow day at work, because no one wanted to brave the roads to come in! Not that I'm complaining, chill days are fine with me!
Thankfully by the time the office closed, the roads were mostly clear and I wasn't too concerned.
But let's get on the the IMPORTANT things for today!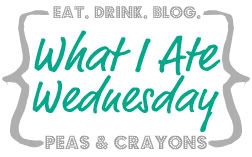 It's What I Ate Wednesday! I swear, I've really learned to enjoy Wednesdays thanks to WIAW. It just gives me something to look forward to in the middle of the week. You know, other than the camel "hump day" commercial. Which is always a crowd pleaser.
If you want to see more of what other bloggers are eating, or just find out more about WIAW in general, please check out Jenn's blog for more information. Thanks for the link-up, Jenn!
Breakfast
Look at me, changing things up AGAIN! Honestly, I've been all over the place with breakfasts lately. I just havent found anything that's really been calling my name. Last week it was eggs, this week so far has been oats. Although Chris just bought some cereal last night, so who knows what it will be tomorrow! But on Tuesday morning, I was all about the OIAJ (Oats in a Jar). I topped my oats with frozen berries and cinnamon. My favorite combination as of late. Paired with a cup of coffee once I got to work (I was running super late!!!!)
Lunch
Same old, same old. I had some more creamy chicken, veggie and wild rice soup (still just as warm and filling as it was this weekend – recipe coming soon!) and a CSA apple. I also had part of my coworkers chocolate cookie, which she graciously offered. It would have been rude of me to say no… right? haha.
Snack
Around 4pm I grabbed my snack – a Mango Guanabana Fage yogurt. Not my favorite Fage flavor, but it definitely got the job done. What is a Guanabana anyway? (<—Dr. Wikipedia says that the real name is a Soursop. I'd stick with guanabana too!)
Dinner
Dinner was something that I've been eyeing on Pinterest for at least a week, especially since it's gotten recommendations from several other bloggers: Iowa Girl Eats' Buffalo Chicken Mac and Cheese. You know if it involves buffalo sauce, I'm all over it. And I have to say, it was A.MAZ.ING. Seriously. Make this immediately. Chris went back for thirds. I paired mine with some steamed spinach to get some greens in. Even though what I really wanted to do was just eat this right out of the pan.
Dessert
I also shared a small bowl of all natural salted caramel ice cream with Chris while we watched the end of the Washington Capitals game. I was too stressed out by the shoot-out to remember to take a picture. But Caps won, so that's all that matters!
Workout
I also managed to get in a pretty decent workout! It was a little bit random, but I mixed a 15 minute full body pilates video from Blogilates (love her Youtube channel!), a 5 minute killer ab video, and then a 25 minute run with a few sprints thrown in. Considering I originally wasn't supposed to be home tonight and had no workout plans, I'd say it worked out pretty well!
Well there you have it, my eats and sweats for yesterday! I hope you enjoyed it and I'd love to hear more about what you guys are eating! I need some new suggestions to add in to our rotation.
So tell me: What did you eat today?